Yoga Teacher Training
Next 200-Hr Yoga Training:January 2023
The Sama Yoga School (hosted at Ashtanga Yoga Victoria), offers the most comprehensive yoga teacher training on Vancouver Island, British Columbia.
With over 220 hours of training, this course is designed for students aspiring to teach, as well as teachers eager to expand their understanding traditional Vinyasa yoga through classical pranayama and meditative practices, detailed asana clinics, hands-on assisting, yoga psychology and philosophy, western functional anatomy and Sanskrit.  Our global faculty has over 150 years of teaching experience.   Click the links below to see what makes us different and find out how to apply.  This is not your average yoga teacher training.
What you need to know
Format
Our Spring 200 hour Yoga Teacher Training is conveniently separated into a series of 8 weekends spanning over 3 months. This format allows for attendees to continue their other life commitments while studying. Over the period of the course, students will complete self-study assignments, classroom hours, exams and all practicum hours. A fully virtual training is available.
Most weekends are partial Fridays and full days Saturday and Sunday. Students are expected to maintain their practice and complete self-study assignments between classroom dates.  All sessions are mandatory and required for course completion.
Each weekend, significant time is spent on going deeper into your personal practice with meditation, mantra recitation, pranayama and asana, along with lectures, practice teaching and peer reviews.  There is pre-course work required for completion prior to the first weekend.
Dates
Winter-Spring 2023 (8 weekends)
March 10-12, 18-19
April  1-2,  14-16 & 28-30
May 12-14 & 26-28
June 9-11
These weekends include morning practices of mantra, meditation, pranayama, and asana. You will be assigned some days to assist/ observe the lead teacher in the practice room. The day typically starts at 6:30 or 7:00 a.m. and ends at the latest 6pm with some breaks in the day. Fridays run 10am – 3pm
Afternoon educational sessions are a combination of lecture and practical workshops followed by a late-afternoon seated practice on Sundays. Some evening  restorative asana practices are assigned for students to attend when convenient.
Pre-course assignments, videos and readings should be completed prior to the course start date on your own time.
A certificate of completion will only be issued when all hours and assessments are successfully completed. Teaching and content assessments will take place throughout the four months.
Schedule
The following is a sample, the order of events may vary slightly throughout the course.  Times may vary by an hour start or finish.
Each participant will receive a detailed schedule at the beginning of the course
Fridays : 10-3 (with morning practice before 10am optional)
Saturdays & Sundays
7:00–10:30 a.m.: Morning Practices/ Assisting / Observing
10:45 – 12:30 Chanting/ Lecture/ Asana Clinic
12:30-1:45pm  Break
1:45–6:00 p.m.: Lecture, Clinics, Practice Teaching
The graduation event will be held on the last Sunday in the evening.  Out of town students taking the training in person should plan to stay in Victoria until Monday on that final weekend.
Faculty
The only yoga teaching faculty in Victoria actively engaged in academic scientific research. Sharing over 150 years of  combined teaching Vinyasa & Ashtanga Yoga and Pranayama and educating thousands of students around the world, through workshops and trainings over the past 25 years, our faculty's combination of higher education, scientific research and deep practical experience is a rarity.  Arielle is the lead trainer in Victoria, assisted by Kimber. Paul, Jeff, Richard, Mary and Anthea have been brought into this training to share their area of expertise.  This ensures each subject matter is led by the best.  Arielle first met both Paul and Jeff in 2005,  as a student at Centered Yoga's Foundational Training. Paul was the lead trainer, and Jeff was an assistant. Paul has been leading teacher trainings for 20 years- Arielle has been leading with him in Thailand for the past 10.   Arielle has been blessed to study with Richard & Mary over the past several years and is honored to have them as a part of the training faculty. Anthea has worked with Arielle over the past 9 years and leads the Ayurveda section of the training.  All members of our faculty have taught together, on their own and alongside each other at different points over the years.
Arielle Nash , BKin, CSCS, ERYT500 is the director and lead teacher at Ashtanga Yoga Victoria and lead trainer. She has been teaching Vinyasa and Ashtanga for nearly 20 years.  She specializes in anatomy and physiology and their application to yoga practices and has a special interest in fascia's role in movement and healing. She is a certified kinesiologist and has extensive experience in training functional movement and human performance.  Arielle teaches complex concepts in a clear, relative and easy to understand manner.  Her curiosity in psychosomatics as relevant to yoga practices, instigated her current Masters of Science research in Exercise Science. She teaches anatomy and physiology labs at the University of Victoria and has developed courses summing 1200 hours for yoga teachers. As a long term teacher's teacher and practitioner, she offers a practical, informed, authentic mix of East meets West.
Visiting Teachers:
Dr. Paul Dallaghan. PhD, ERYT500 is the founder of  the Centered Yoga Institute and Samahita Retreat in Thailand.  He has been a daily practitioner for over 25 years and holds the honour of being certified by both Pattabhi Jois (advanced asana) and Sri OP Tiwari (pranayama).  Paul is a global educator and renowned teacher in the United States, Europe, the UK, Australia, South Africa and Asia.  His personal studies have led him to deeply explore ancient texts, the evolution of modern yoga and scientific research. He holds a PhD in biological anthropology, focussing classical hatha yoga practices and their effect on our psychology & physiology.
Jeff Lichty  spent sixteen years as a critical care paramedic, which, along with his pre-existing existential inclinations led him to the practice of Yoga.  He has traveled to India over 17 times to study directly with Sri K Pattabhi Jois and Sri R Sharath Jois.  Co-founder and former director of Ashtanga Yoga Victoria, he now provides a space for a thriving community of practitioners at his Calgary Yoga School.  Jeff is approachable, humourous and practical in his teachings. He has a real talent for expanding the ordinary definitions of yoga beyond the reach of our current body centric-culture and revealing how these practices powerfully penetrate into all areas of life.
Richard Freeman & Mary Taylor  almost need no introduction. These two very special teachers are world renowned for their craft, accomplished authors and are considered icons in any yoga circle.  Richard's yoga study began in 1968 and continued to include direct advanced asana from BKS Iyengar and Pattabhi Jois in India. After many years studying Sanskrit, Yoga philosophical texts and with his deep interest in Buddhism, Richard has a scholarly aptitude and poetic art to his teachings.  Mary began yoga in 1971 and continues with daily practices in yoga and Buddhism.  She teaches alongside Richard, adding a wise and unique perspective and offering commentary on Richard's eloquent expressions of philosophy.  Richard & Mary guide our TT students in a delightful journey through the Bhagavad Gita, linking to modern day real-life practical application as a part of philosophy study.
Anthea Grimason has been practicing yoga for 15 years and teaching for 13 and is a health coach specializing in Ayurveda for modern day and the human perspective on death. Based in San Francisco, where she teaches, Anthea is a certified End of Life Doula, Health Coach & Ayurvedic Lifestyle Consultant.
Virtual Format Option
The format of the virtual training option is dependant on the time zone of the student.  The training takes place in live pacific time.  Different than most virtual trainings, which typically comprise of the student working through a series of recorded videos and manuals on their own, this course focuses on real time live interaction between the students and teacher.
If the time zone allows, students live stream the lectures and practice sessions with the teacher, practicing and learning alongside the in-person group in Victoria. This provides the student with a sense of community, which is a vital part of a teacher training.
If the time zone is such that the student is unable to attend the full day live streamed, they can view the essential education components on their own time.
Example: Student time zone 8 hrs ahead of PST (times are approximate)
3- 5:30p- Live Stream Breath, Mantra and Asana Practice
5:30- 7p  Live Stream Asana clinic
9:00 – 10:30/11p – Live stream lectures
Next Day:
In the morning, the student watches any missed content from the previous day in order to be caught up as instructed by the teacher for the same-day live streaming.
Any Sunday missed content can be viewed any time before the next scheduled weekend.
Virtual students adjust their schedule to which best suits them, however must inform us of their live stream attendance schedule at the onset of training.
Course Content
We are a Registered Yoga Alliance School. Our yoga teacher training syllabus exceeds Yoga Alliance's 200-hour standards.
Asana: Asana clinics cover the movements of yoga and detailed alignment of the postural foundations of Ashtanga Vinyasa and Hatha postures. It is from this strong foundation of basic forms that variations and modifications can be made. This provides an unparalleled base from which to sequence and teach any vinyasa  asana practice.  Thorough progression sequences for Surya Namaskara (sun salutations) are learned that enable graduates to teach a variety of student levels.  In addition to detailed clinics, each day of the training includes asana practice sessions to assist in learning how to cue postures safely and confidently while deepening personal practice. A combination of led Vinyasa classes, Ashtanga Vinyasa and teacher-assisted, self-practice in the Mysore method are practiced.
Pranayama: We are very fortunate to have the knowledge base and extensive practice experience to correctly teach classical Pranayama. Our knowledge was acquired directly from one of the last living masters, Sri. O. P. Tiwari and his primary student, Paul Dallaghan.  Paul's one-on-one studentship with Tiwari as well as his PhD studies have made him an authority in the practice, which he, in turn, has taught Arielle alongside Tiwari.  Jeff has also learned the practice directly from Tiwari and taught it for the past 15 years.  You will practice classical pranayama, receive a prescription according to your needs, and learn how to teach basic breath regulation.  Graduates leave confident being able to identify correct breath patterns in students and cues as well as exercises on how to help students correct dysfunctional breath patterns. This type of training is not found anywhere else in North America.
Yoga Kriyas: You will be introduced to, and have the opportunity, to practice classical yoga kriyas (cleansing practices) under the teachers' guidance.  The purpose as well as "how to" is covered so students are comfortable continuing this on their own as needed following the yoga teacher training.
Meditation: The details of how to properly sit for meditation and what exactly meditation is sets the foundation for learning techniques to build a practice. Once personal meditation practice is built, graduates can use the techniques they have learned to teach and practiced to incorporate meditation into their classes or teach short guided meditations.
Sanskrit & Mantra: The detailed naming of postures in the traditional language of yoga is getting lost in western trainings.  This language carries with it a rich history and culture, which is important to respect and if teaching, study at least the basics. During the training, participants will learn the sounds of sanskrit, the difference between Vedic and Non-Vedic chanting rhythms, how to correctly pronounce words, key yoga words and their meanings as well as asana names.  Mantra recitation is a part of every morning seated practice during training weekends. Several chants are practiced and meanings discussed so graduates are comfortable with them, including their use in opening and closing a class.
Yoga Philosophy: With a primary focus on the yoga sutras of Patanjali, we discuss yogic texts and Samkhya as they pertain to modern life. The 8 limbs of yoga ("ashtanga") are explored through detailed discussion and practice. A clear and accurate textual history is presented in order to understand the roots and development of  yoga practices and their purpose. You will be introduced to yoga's sister science, Ayurveda and how it applies to lifestyle and teaching. This portion of the course is primarily taught by Dr Paul Dallaghan or Jeff Lichty.  Ayurveda is taught by Ayurvedic practitioner, Anthea Grimason.
Western Anatomy & Physiology: An introduction to fascia and its role in asana and a detailed study of the musculoskeletal system and the biomechanics at play in yoga will help you understand how to teach asana effectively and safely with a deep understanding of how the body works. Beyond muscles and bones, we look at the physiology behind our body processes as it applies to our yoga practice.  Arielle has been teaching anatomy for over 20 years in several different settings and is gifted at making it come to life with somatic movements, therapeutics and functional mobility exercises so students experience the body from the inside out.  The focus of Arielle's scientific research is the effects stress has on our body movement and structure, so special attention is paid to the autonomic nervous system and stress response.
Practical Teaching (35 hours): Practicing correct and effective cueing, hands-on assisting and holding space are crucial to developing the confidence required to teach. You will assist and observe during live asana classes in addition to practicing in small groups. Teacher and peer immediate feedback is provided so students feel ready to teach and understand areas they may want to refine.
The Art of Adjusting: During the asana clinics, you will learn effective and safe hands-on adjustment techniques for poses and when to assist – all with a trauma-informed lens. Assists will be practiced in both practice teaching sessions and live asana classes. Some time is spent on assessing movement in order to identify faulty patterns in students. We will also cover the ethics of physically contacting students.  Through practicing, intuition is nurtured to support the techniques leading graduates to be comfortable assisting students of a variety of practice levels.
Preparing to Teach: With a focus on simple, effective sequencing, how to hold space, communicate clearly, and assist students safely, you will leave the course confident teaching all levels of students up to your own.  The confidence to teach grows with each training day by deepening personal practice, theoretical understanding and practice teaching.  A session on next steps, administration and how to start as a teacher is discussed on the final day of the course.
Assessment: As a measurement that each student has remained attentive and absorbed pertinent information, this course has several assessment parameters including written and oral, teaching and participation.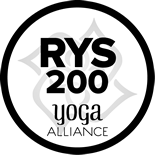 View Full Syllabus and break down of hours on Yoga Alliance
Requirements
Because space is limited in this training, you must apply for consideration. You must have a foundation in asana practice (dynamic style) and a desire to learn. If you are unsure if you qualify, please contact us with any questions or check out our FAQ. Students who do not have a background in any Vinyasa yoga should contact the school directly to discuss preparing for the course.
Virtual students require reliable internet service and a quiet, private space to attend classes online.
Many participants take the training for personal development and never intend to teach.  Others, are inspired to begin teaching after the training and some intend to teach from the beginning. Becoming a yoga teacher requires much more then taking a course and getting letters beside your name; it requires authentic study, discipline and continued education. This course is the start. (application form at bottom of page).
Location
All classroom hours take place on Vancouver Island in Victoria, British Columbia. Victoria has an international airport, as well as ferry connections to Vancouver, BC and Port Angeles, WA. Local students will find the training is conveniently scheduled around other life commitments. Visiting students often take the opportunity between weekend training hours to remain in Victoria to practice or tour Canada's West Coast, including Tofino, Vancouver, Whistler, and the Canadian Rockies.
We may be able to assist visiting students in finding suitable accommodations within our community. Please contact us for details.
Rates
Early Bird Rate: $3350 (until Feb 17, 2023 )
Regular Rate: $3850     *Member Rate: $3350
Virtual Course: $2250 (Early Bird until Feb 17,2023, then $2550)
$1,000 deposit required. Payment plans may be available. Email us to ask.
Regular / Early Bird non-members have the option of adding a studio pass at 50% off  to practice at the studio for the 3 months of the course.
Prices do not include food, accommodations or travel expenses. Students must arrange this on their own.
*to qualify for the member rate, you must be a regular unlimited member for a minimum of 4 months prior to the course start date.
FAQ
Is this course only to learn to teach Ashtanga Vinyasa yoga? No. Ashtanga Vinyasa is one of the original forms of vinyasa yoga.  It provides a base from which to sequence and teach vinyasa yoga in general.  Detailed discussion on what vinyasa is, and how to correctly teach vinyasa yoga is covered in the course. Many of our graduates go on to teach group  Vinyasa flow, power yoga, Core yoga,  slow flow, beginners yoga and Private yoga.  Restorative yoga is discussed, however it is recommended that our separate Restorative training module is taken after this course.
What is the time commitment each week in addition to the scheduled course hours?  There is an expectation that students are maintaining their personal asana and prescribed pranayama practice throughout the course. Some do this in the studio, others at home. Expect a minimum of one hour, most days of the week to be dedicated to practice.
Will I be able to teach right away after the course?  Some graduates will feel ready to teach, others will want more practice first. We recommend that new teacher training graduates maintain another form of employment (if income is necessary) in the beginning.  Many hours are spent in the course practice teaching with peers and getting immediate feedback.  We do recommend that graduates shadow senior teachers whenever possible, however they will be able to teach vinyasa classes following the training. Graduates from our YTT automatically qualify for acceptance to our saught-after Teacher Mentorship Program.
How is this yoga teacher training different than others I see advertised?  This training has been very carefully designed over  years of experience teaching and training teachers. Key traditional ingredients are maintained that are often left out or inaccurately represented in many western trainings – namely Sanskrit, correct classical pranayama, accurate terminology and history, yoga kriyas, and clear understanding of what yoga is and is not. In addition, as research scientists, Arielle & Paul bring a level of expertise and knowledge that supports their extensive experience within the practice that is not found at other schools. Their primary academic research areas are anatomy & physiology, pranayama and yoga anthropology. The feedback we have received from graduates is that we cut out the fluff, keep things practical and teach what is relevant sharing yoga authentically.
I have very little or no experience in Ashtanga Yoga, is this training right for me?  There is no experience in Ashtanga Vinyasa yoga necessary to take the training.  The Ashtanga sequence is used as a base to explore asana and assisting as it is one of the original forms of vinyasa. This provides graduates with a clear understanding of vinyasa and the  foundation needed to sequence their own dynamic classes and lead a basic Ashtanga class.
Will I be certified to teach Ashtanga Yoga in this course?  Graduates may choose to register as a certified yoga teacher with the Yoga Alliance receiving their certificate from this teacher training.  We are a Yoga Alliance Registered School and Continuing Education Provider.  Sharath R. Jois in Mysore, India is the only individual who can specifically certify Ashtanga teachers.